Yesterday I lazily checked my yahoo mail, not expecting anything, and there it was: a new message from someone I didn't know!
It was from this awesome mom who was looking for a cake idea for her son's birthday and came across my blog. She found the post I wrote last year about
Cookie's birthday cake
.
Take a gander:
Subject: The most yummy Strawberry CAKE!! THANK YOU THANK YOU!!
To: evilcakelady[at]yahoo[dot]com
Date: Saturday, March 15, 2008, 10:47 PM

I have to say a big thank you to you. My son saw your cake and wanted to have a strawberry cake for his birthday. He loves strawberries and wanted to have a cake with them so that started our internet search and we found you.

Here is a few pics of how our cake turned out..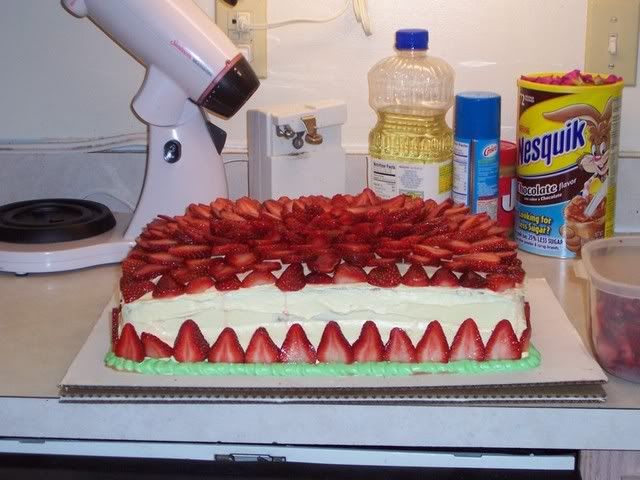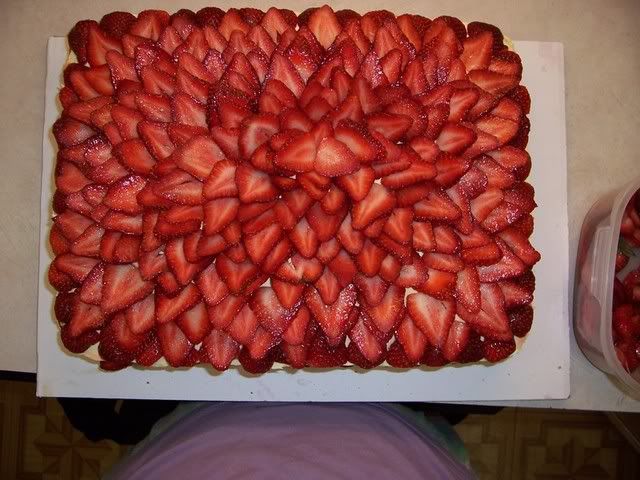 Your idea made a 4 year old boy very very happy..

Thanks again
Laurie
I mean, how cool is that? Very cool. The strawberries look so dramatic on such a large cake, and for a strawberry lover, that is heaven on a plate. I asked Laurie if I could post her email and cake and she sweetly agreed. This is the secret dream of the blogger, that their little blog benefits somebody out there in the wide world.
Makes me feel all warm and gooey on the inside.